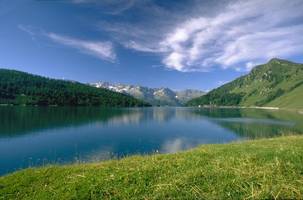 The Ritom Lake is also accessible with the help of the Funicular. The basin, with its 1.49 km², is the largest mountain lake in the Canton of Ticino. Since 1917, with the construction of the first dam, the Ritom waters have been used to produce hydroelectric energy, assuming a vital role for the Leventina Valley.
For those who want to just relax and take in the scenery, this is the perfect place to admire the view and dive into the atmosphere of peace and tranquility that only this place can create. For all hiking enthusiasts, the area of Lake Ritom is the starting point for numerous walks on foot or by bicycle.
In 2009, a didactic trail was created on the right bank of the lake that allows both youngsters and the elderly folk to discover the particularities of this fantastic region.