Alpe Piora, with an area of ​​3.500 hectares (more than 1.000 dedicated to productive grazing), is the widest mountain pasture in the Canton of Ticino. The grass found on the grasslands is mainly composed of aromatic forages, such as alpine plantain and other various types of alpine clover. During summer, from July to September, the Alps hosts around 500 cattle; including calves, heifers and dairy cows.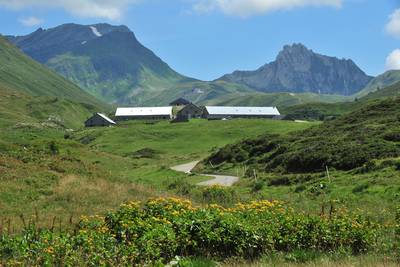 Since June 2005, the new Alpine dairy has been in operation with the latest generation 4.000 liter boiler and a new cellar for maturing 3,500 wheels of the finest Piora Alp cheese. The boiler, heated by steam, collects the precious milk from about 260 cows, supplying 64 wheels of cheese daily. The annual production reaches about 3,000 wheels of rich cheese (23,000 kg).
The aging cellar for Prosciutto dell'Alpe Piora from the Rapelli company is also located in the Alpe Piora. Prosciutto dell'Alpe Piora is a raw ham that owes its flavor to its aging process at over 2000 meters high. It is hand-massaged and salted with sea salt by the Ticinella master butchers, and its flavors are enhanced in the cellars of Alpe Piora, where the scent of the high mountain air gives it, a pure and delicious aroma.