The Ritom-Piora region has attracted the attention of naturalists since the 1700s. The first testimonies and descriptions concerning Piora and San Gottardo coincide chronologically with the birth of naturalists interest in the mountains and with the birth of mountaineering itself.
The first scientific research carried out in Piora dates back to the second half of the 1800s – early 1900s. Since then, over 400 monographs and articles have appeared in specialized journals. They consider flora, fauna, hydrobiology, geology, and technical problems related to hydroelectric exploitation and fisheries management in Alpine Lakes.
There is thus, a true knowledge heritage that is difficult to find in other naturally valuable regions. The data also offers the advantage of giving an evolutionary interpretation of the results of today's investigations.
A varied alpine flora welcomes nature lovers.
The Ritom-Piora region is known for its rich biodiversity of alpine fauna and flora.
Fauna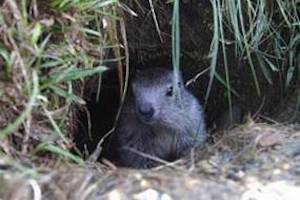 Thanks to the variety of environments that offer refuge and nourishment to the fauna, numerous animal species live in the Piora region. Mammals include Alpine ibexes, chamois, deer, roe deer, marmots, stoats, alpine hares, foxes and mice of different species. Among the birds, you can see the whitetail, common linnet, common rock thrush, collared blackbird, nutcracker, bluethroat, kestrel, eagle, black grouse, partridge, and rock partridge. The Alpine newt and the red frog are also present as amphibians.
Flora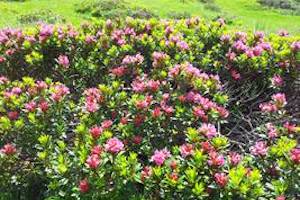 In the Val Piora, numerous researches have been carried out on the flora's particularities at high altitude. This alpine region is characterized by a particularly mild and sheltered climate, ideal for the flowering and sprouting of many different flowers and plants.
Mountain lakes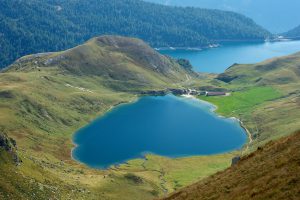 Like gems set in the hard alpine rocks, the Piora regions lakes crown the idyllic landscape. The presence of ponds certainly enhances the excursions in the Piora-Ritom area; from the Ritom Lake, the largest one; passing to the Isra lake, the smallest one; up to the Dark lake, the highest one. The lake of Dentro, near the Cadlimo hut, is considered the Rhine river source, as the first basin that feeds the Rhine of Medel.
The peat bog of Cadagno di Fuori
Going down from Alpe Piora towards Lake Cadagno, you can observe, in the south-east direction, the peat bog of Cadagno di Fuori. However, access to the public is prohibited. The peat bog is also listed on the federal peat bog inventory.
The western portion of the peat bog has safeguarded a natural character and presents environments of high natural value.
In the peat bog and on the sediments of Lake Cadagno, it is possible to observe significant formations of bacterial carpets and complex sedimentary structures of biological origin, home to important transformations of matter.